AB Electronics was formed by Alistair Macleod initially as a part time business in March 2003 while working  at DD Morrison & Co. where he worked for over 21 years as a TV engineer, satelitte installer / repairer with the SKY contract as an accreditted installer. Alistair also became a Tunstall telecom installer / service enginner from 1984 for the islands, initially with DD Morrison & Co, but laterly in his own right.
After working at DD Morrisons for over 21 years, Alistair decided it was time to go and branch out on his own.  Alistair took on the Tunstall contract at Tunstall's own request such was his ever growing reputation as an Electrical and Electronics technician.
Since those early days the business has seen sustained growth from year to year and each year AB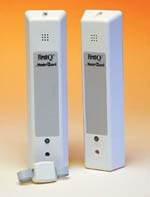 Electronics pick up more and more contract work due to their unrivalled reputation for quality professional workmanship, and also their speedy response to all works required by their customers.
AB Electronics are on call 24/7 for all sub contract and direct contract work.
Alistair has never looked back since starting the business in 2003 and it continues to grow from strength to strength. Customer satisfaction is the main priority for continued success.

The business finally became a limited Company on 1st January 2007.

AB Electronics covers from The Isle of Lewis to the Isle of Barra for all works.